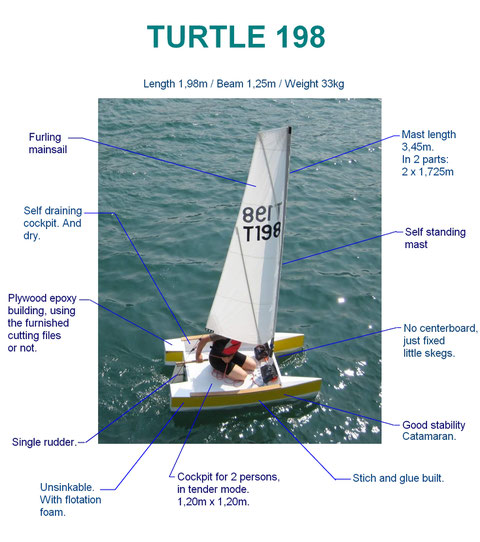 Both a very little sailing boat and...a tender!
Rowing and easy sailing boat/ unsinkable/ stability / no centerboard / trailerable / cartopable / single rudder/ self-standing carbon fibre mast or aluminium, in 2 parts/ furling single sail / very easy epoxy plywood construction for stitch and glue construction/ for all the family.


Main specifications:
Building material: 4 or 5mm thick. marine plywood,
glass fibre and epoxy resin.
Hull length: 1,98 m
Length at DWL: 1,98 m
Length over all, LOA : 1,98 m
Beam : 1,25 m (without rubber band)
Fwd freeboard: 350 cm
Aft freeboard: 286 cm
Draft min./max.: 24 cm without rudder / 41 cm with rudder
Displacement: 33 kg without rig and sail and without outboard engine.
Displacement (full loading) 213 kg with 2 persons and 30 kg of bags
Payload (max.): 180kg.
Unsinkable with flotation foam.
Transportable / cartopable
No centerboard, just skegs.
Engine: outboard 2,5 HP (possible)
Mainsail Area: 2 m2 - Furling main / Self standing mast.
Possibility to add a boom.